Ricoh Ireland shortlisted for Project of the Year at the 2018 Tech Excellence Awards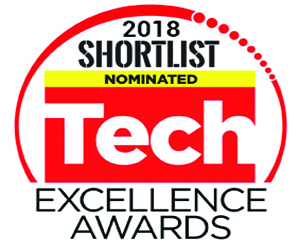 Ricoh Ireland is delighted to announce that it has been shortlisted for the Public Sector Project of the Year award at the upcoming 2018 Irish Tech Excellence Awards. The nomination is in recognition of Ricoh's outstanding work with Temple Street Children's University Hospital, which helped the hospital to save on costs, streamline document processes and improve patient care.
Now in its 18th year, the Tech Excellence Awards, are recognised as the principal professional accolades awarded in the Irish technology industry. A distinguished panel of judges evaluated the application of enterprise-level technology in the public sector, and the impact of IT to the delivery of the organisation's objectives, before narrowing down their shortlist in this highly competitive category.
Ricoh Ireland donated, installed and agreed to support 44 nearly-new print and document management devices worth more than €175,000 to Temple Street Children's University Hospital. The solution successfully streamlined print and document processes across the hospital, enhanced security, improved mobility and enabled better inter-departmental collaboration.
Reduced energy and paper consumption also allowed the hospital to make significant cost-savings, which were redistributed within the overall hospital budget and used to fund much-needed medical devices and equipment. Gary Hopwood, Managing Director, Ricoh Ireland, said: "We are delighted that this initiative has been so beneficial to the staff and patients at Temple Street – and that the savings they are making can be used to directly benefit patients. With this project we hope to have shown how businesses can work together to make a real and positive impact on the greater community."
Ricoh's expertise in delivering the project and it's commitment to CSR initiatives greatly impressed the judges and convinced them to shortlist Ricoh for this prestigious award. The winners will be announced at the Tech Excellence Awards black-tie gala dinner evening on Thursday 24th May in the Citywest Hotel, Saggart, Co. Dublin.