Ricoh Europe wins BLI Pacesetter award for its excellence in remanufactured hardware
Ricoh Europe, London, 06 July 2022 – Ricoh Europe is celebrating once again having received a prestigious Buyers Lab (BLI) Pacesetter Award from Keypoint Intelligence for its remanufactured hardware.
Based on in-depth analysis and a proprietary rating scale, BLI Pacesetter awards recognise document imaging OEMs that have shown market leadership in a variety of categories, including with technologies, services, and key vertical markets. The award is based on analysis of key criteria such as company vision, achievements, current portfolio and integration of range.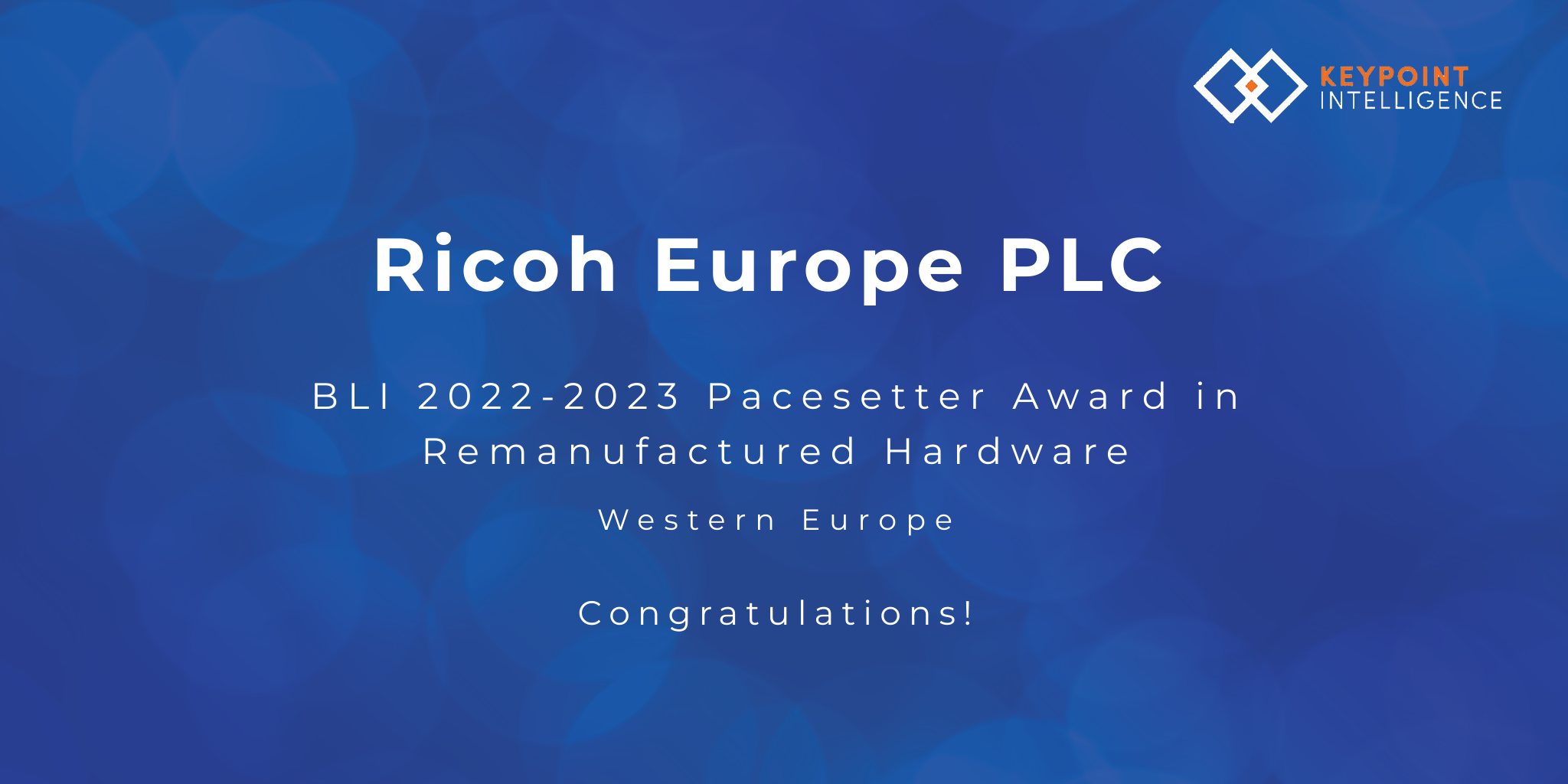 As part of its extensive evaluation, Keypoint Intelligence noted Ricoh Europe's comprehensive range of remanufactured devices, including its
Greenline
and
Eco-line
offerings. Ricoh Europe's clear pricing and remanufacturing positioning was also commended, as well as its strong go to market strategy across the organisation and via the channel. Keypoint Intelligence also praised Ricoh Europe for aligning its credible and measured reuse and recycle approach with the UN's Sustainable Development Goals (SDGs).
Peter Mayhew, Principal Analyst at Keypoint Intelligence and the lead on the judging panel, says: "Ricoh Europe provided a particularly compelling entry for our BLI 2022-2023 Pacesetter Award in Remanufactured Hardware. The combination of its remanufactured product range, strategic implementation, and responsible alignment attracted particular attention from the judging panel."
Nicola Downing, CEO, Ricoh Europe, adds: "Customer demands for complete transparency and an unwavering commitment to the ESG agenda are rightly at an all-time high. Our focus on people and the planet has been engrained into every aspect of our business since our inception in 1936. Receiving recognition from Keypoint Intelligence reaffirms the focus we will always place in the responsible remanufacturing of our devices."