New RICOH Pro™ C9500 to unlock expanded revenue streams and operational efficiency for commercial printers
Workflow efficiency and cost optimisation will help simplify operations, automate tasks, maximise productivity and free up time for other tasks
Ricoh Ireland, Dublin, August 2, 2023 – Ricoh Ireland is empowering commercial printers to expand revenue streams and enhance operational efficiency with the next generation RICOH Pro C9500 digital colour sheetfed press.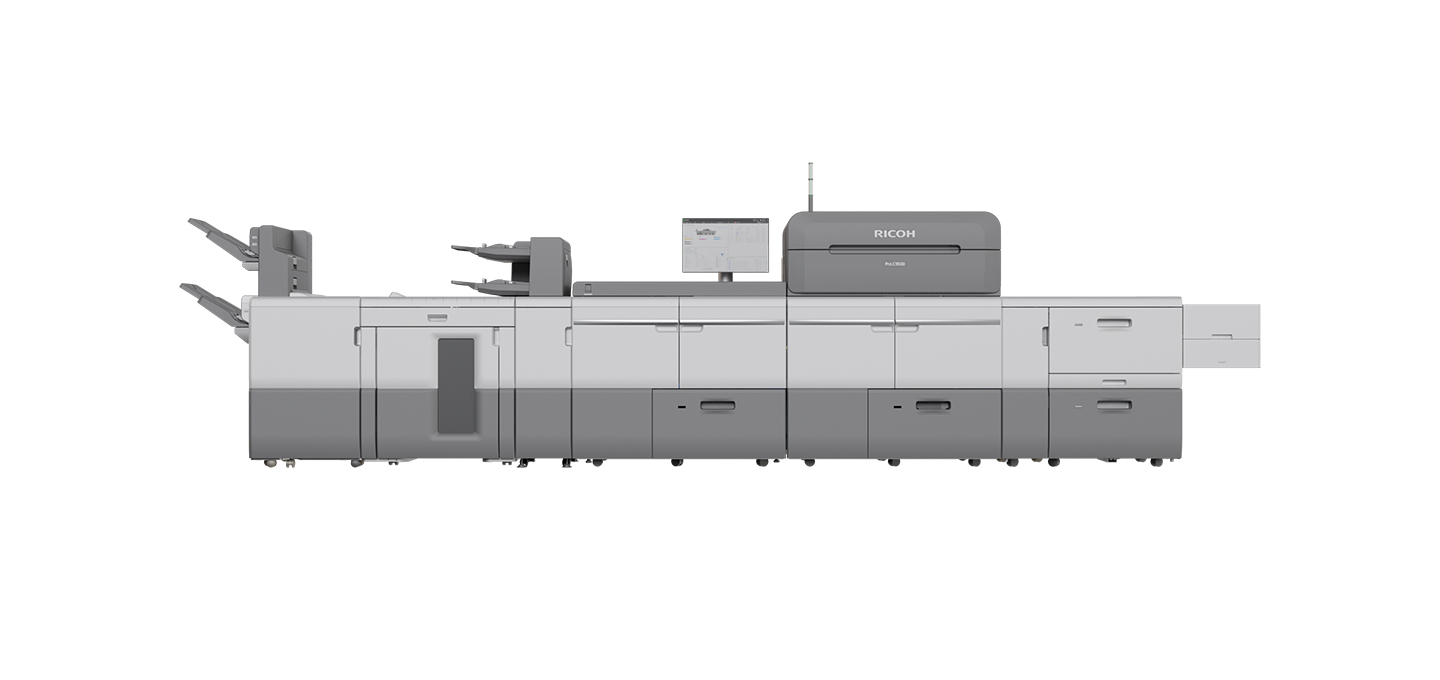 The evolution of the highly popular RICOH Pro™ C9200 has been enhanced with performance improving technologies designed to elevate productivity and quality, while simplifying operations and expanding application opportunities. It has improved efficiency and automation while developing greater labour savings throughout the entire workflow. Collectively they support cost control, business expansion, and free up time for other tasks. 
The flagship toner-based press has also been developed to enable commercial specialists to further accelerate their analogue to digital transition or confidently upgrade their Print on Demand-oriented digital capabilities. 
The newly developed RICOH GC OS (Graphic Communications Operating System) engine controller has introduced operational and maintenance management improvements. It includes a larger screen with an intuitive and easy to use user interface and is compatible with external diagnostic systems and maintenance programmes. Users can access the printer from a PC or tablet, and settings can be remotely managed, saving time, even in a multi-skilled environment where printing operators perform numerous tasks.
Greater automation and operational efficiency are powered by the new Auto Color Diagnosis Unit that automates the three critical inspections in commercial printing: quality, registration, and colour fluctuation. It delivers improved inspection accuracy; while there is now greater efficiency post inspection with automatic reprinting and purging functions, and the setting procedure is now easier to operate with seven detection levels to choose from. 
Other features and enhancements include:
Improved media handling of paper between 40gsm and 470gsm with extended input and output options for media up to 1260mm.
A newly developed fusing system that allows media to pass smoothly through the fusing process whilst applying heat and pressure evenly to achieve high image quality on a wide range of substrates.
New paper transfer unit to enable improved front to back registration.
Improved 21.5 inch operator panel enabling the operation of applications in one place.
New powerful DFE (Digital Front End) options developed in collaboration with Fiery to support operational efficiency and effectiveness. 
Speed upgrade up to 135ppm via a productivity module that can be fitted post installation.
Improved productivity with fast setup times delivering maximum uptime.
New finishing options with the GBC StreamPunch Plus for inline creasing and perforating and the Plockmatic Crease Trimmer unit for top and bottom trimming and creasing. 
Simon Isaacs, National Director, Ricoh UK Graphic Communications Group, says: "I believe the launch of the new Pro C9500 represents a leap forward in the evolution of production technology and is designed to enable print providers to expand their production reach. Its capabilities will enable our clients to maximise their business effectiveness and return on investment through a range of value-added software options, including RICOH TotalFlow Supervisor™, RICOH TotalFlow Production Manager and RICOH FusionPro."
"Let's not forget that the Pro C9500 also incorporates proven technologies introduced on the RICOH Pro C9200 which is the leading model in its category. These include VCSEL technology (Vertical Cavity Surface Emitting Laser), DEMS (Development Electric-field Modulation System), fusing belt smoothing roller, DSC (Dynamic Shading Correction), registration adjustment, and inline sensor system."
The RICOH Pro C9500 digital colour sheetfed press is available to order in Europe, Middle East and Africa from September.
The new Pro C9500 will be fully demonstrated during the exclusive Ricoh Print Evolution Live event in Telford on 3rd and 4th of October. By invitation only, print service providers will be able to experience a range of new technology offerings from Ricoh to help them innovate and stay ahead.
|About Ricoh|
Ricoh is a leading provider of integrated digital services and print and imaging solutions designed to support digital transformation of workplaces, workspaces and optimize business performance.
Headquartered in Tokyo, Ricoh's global operation reaches customers in approximately 200 countries and regions, supported by cultivated knowledge, technologies, and organizational capabilities nurtured over its 85-year history. In the financial year ended March 2023, Ricoh Group had worldwide sales of 2,134 billion yen (approx. 16.0 billion USD).
It is Ricoh's mission and vision to empower individuals to find Fulfillment through Work by understanding and transforming how people work so we can unleash their potential and creativity to realize a sustainable future. 
For further information, please visit www.ricoh.com
Ricoh Ireland
Tel: +353 (01) 8953900
Read our insights at: insights.ricoh.ie
Homepage: www.ricoh.ie
Follow us on Twitter: www.twitter.com/ricohireland
Connect with us on LinkedIn: https://www.linkedin.com/company/ricoh-ireland-limited
Visit the Ricoh media centre at: https://www.ricoh.ie/news-events/news/index.html
© 2022 RICOH COMPANY, LTD. All rights reserved. All referenced product names
are the trademarks of their respective companies.