SOLAS saves €60k annually following Ricoh managed print deal
- Ricoh's Aficio MP C3003 printers have replaced approximately 200 desktop printers
- Sustainable solution will help SOLAS to meet its energy reduction targets – which are in line with the Irish public sector's commitment to 33% energy efficiency savings by 2020 

Dublin, 15 December 2016 – Ricoh Ireland today announces that is has enabled SOLAS to make annual savings of approximately €60K following a managed print deal. Ricoh won the deal following a competitive tender process and installed multi-functional devices across four floors at the new SOLAS headquarters in Dublin's Docklands.

SOLAS, the further education and training authority, is a public sector body and strives to achieve value for money in all of its procurements. Part of the tender process was therefore to examine how the chosen provider could help the organisation reduce costs.

Following a public tender competition, Ricoh won the contract and was commissioned by SOLAS to install Aficio MP C3003 printers in its Dublin offices. The installation allowed SOLAS to replace approximately 200 desktop printers and make annual savings of approximately €60k annually due to a significant reduction in costly and inefficient consumables needed for the desktop printers.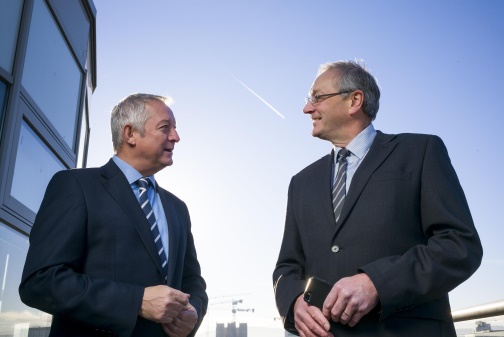 To further reduce unnecessary costs, the printers require each user to use their own personal swipe card. Using Ricoh's Equitrac print and copy control solution, the multi-functional devices can track usage and increase user mobility. The printers reduce waste by deleting print jobs that aren't printed within 24 hours. They also order their own toner when the current cartridge is running low and register service requests using Ricoh's '@remote' software. 

By reducing the number of printers used on a daily basis, SOLAS has also reported a significant reduction in energy consumption and costs. The savings help SOLAS to achieve its Sustainable Energy Authority of Ireland (SEAI) reduction targets. These are in line with the overall public sector targets which must deliver 33% energy efficiency savings by 2020 and increased adoption of green procurement measures to help cut emissions. 

The streamlined print system has allowed SOLAS to benefit from a fully managed print service. All printers operate on the same network and can be monitored remotely.   

Adrian Browne, Facilities Services Manager at SOLAS, said: "We started looking at how we could do our printing more efficiently and cost effectively. As we are obliged to do, we went through a public procurement process and Ricoh offered the best overall package for our managed print needs. 

"Only now do we truly understand what managed print means. Previously, everyone had their own printer and they were all different makes and models. There used to be a bit of a panic when a printer went down, but Ricoh's system is so efficient. Now, people can print anywhere and print jobs are not lost. 

"The new printers are a big success story for us. We even increased our order to accommodate increased demand. The finance team is delighted because it has resulted in budget savings and allowed us to get greater value for the public funding we receive. Crucially, Ricoh's sustainable solution is also reducing energy and paper consumption, and helping us to meet our energy efficiency targets." 

Gary Hopwood, general manager, Ricoh Ireland, said: "SOLAS provides a vital service to people across Ireland, so we at Ricoh are delighted that we have enabled the organisation to make such significant savings. 

"Like SOLAS, Ricoh is dedicated to sustainable working. We are the only company in Ireland's print industry that is accredited with the Business Working Responsibly Mark from Business in the Community Ireland, which recognises companies in areas such as ethics, environment, innovation and customer service. We will continue to work closely with SOLAS and organisations like it to help them achieve their business and sustainability goals."