Ricoh will bring innovative technology to life at The Print Show this October (13-15, October)
London, August 27th, 2015 – Ricoh today announced that it will continue to take their technology to the next level by confirming its plan at The Print Show, an annual exhibition designed to provide the key tools that everyone from the smallest high-street print shop to the biggest corporation need to remain competitive.
Ricoh will showcase some of its flagship and latest technology at this year's show such as the Ricoh Pro™ C9110, showing visitors essential and inspiring applications that demonstrates how digital print technology can improve profitability and ensure users keep one step ahead of their customer's needs. Ricoh will also showcase some of their latest services and applications for the first time on the stand, such as the Watkiss Power Square on the Ricoh Pro™ C9110 and MarcomCentral – a Ricoh platform that manages and customizes a businesses' marketing content across its entire organisation.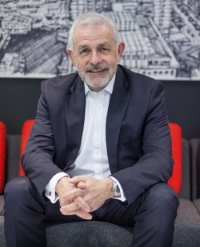 Stephen Palmer, Production Print Director at Ricoh UK said: "We are extremely excited to form a significant part of this inaugural event for the UK and Irish print industry. There are lots of innovative ideas that are moving this growing industry forward and I trust Ricoh will be seen at the show as a partner who not only brings new technology to the market, but quickly develops extremely interesting, real world, printed applications that printers can take inspiration from and apply to their own business."
Ricoh will, for the first time, showcase some of its latest and most innovative applications and services. This includes the Watkiss Power Square on the Ricoh Pro™ C9110, which is a unique, streamlined book making system for digital and offset print applications. Paul Attew, Sales Director of Watkiss Automation said: "We know customers benefit from integrated print and finishing solutions; and the combination of Ricoh's high volume digital presses with the Watkiss PowerSquare™ 224 will meet their demand for both productivity and outstanding quality. We are delighted to work with Ricoh to bring this solution to their customers."
Ricoh will also present the latest capability to print on Blake envelopes, which has been designed specifically for Ricoh printers. When used with the Ricoh Pro™ C7110x, it has the ability to produce jobs that use clear or white ink meaning printers can now produce eye catching direct mail pieces for their clients at a very affordable cost. MarcomCentral, a software-as-a-service (SaaS) which comes under Ricoh's Intelligent Marketing Solutions, will be showcased as the event, demonstrating to visitors how this new platform has been developed and showing new working case studies.
Print innovations that will be exhibited include:
Ricoh Pro™ C9110
A new generation of durable high volume digital presses. They are especially suited for larger commercial printers seeking to start up or expand their hybrid digital and offset workflow and will easily integrate into existing operations. The new additions are productive from the first page out and deliver high volume, personalised print runs, with fast turnaround times.
Ricoh Pro™ C7110x
Digital colour cut sheet presses, ideal for small to medium sized graphic arts business, direct mailers, service bureaux, digital printers and centralised reprographic departments. Its features are designed to support print service providers seeking to increase their current digital printing capacity, most notably with its capability to offer a 5th colour with white or clear ink. With this, customers can enter new markets and explore new digital opportunities by providing capabilities and offerings to clients not previously available with this engine class.
Ricoh Pro™ L4160
This latex, roll-to-roll large format printer comes in 130cm (53 inch) or 160cm (63 inch) widths and supports up to seven colours in various configurations. In addition to CMYK, orange, green and white inks are also available. The Ricoh ProTM L4160 and L4130 deliver high print productivity and quality as a result of technological innovations which include the Ricoh piezo electric print heads. The series also meets the market need for products that reduce environmental impacts printing through its use of aqueous latex ink and ability to operate with low power consumption.
Ricoh Pro™ 8110
You'll find our Pro™ 8100 series of black and white production printers offer exceptional reliability along with outstanding image quality and paper handling. It results in greater productivity and opens up new opportunities for revenue - just what you need in this highly competitive environment. Black and white production only, perfect for heavy paper weights and book finishing capabilities.