RICOH UK WINS UK'S TOP EXCELLENCE AWARD
Ricoh UK has won the British Quality Foundation's 2015 UK Excellence Award, the UK's premier award for business excellence. It was chosen by an independent awards jury for its outstanding performance and sustained competitiveness.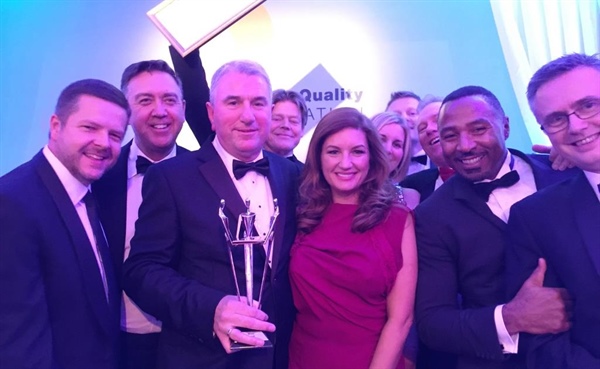 London, October 16th 2015 - Ricoh UK was presented with its award at the 2015 UK Excellence Award Ceremony which took place on Thursday 15 October at the InterContinental London Park Lane. The event was hosted by broadcaster and business woman, Baroness Karren Brady CBE, and attended by many UK business leaders.
Ricoh UK is part of the Ricoh Family Group reporting into Ricoh Europe PLC. It is responsible for the marketing, sales and service of Ricoh products and services throughout the UK, with approximately 2500 employees, of whom 48% are field-based in sales and service roles. It operates over 23 sites with its registered Head Office in Northampton. RUK is market leader in multi-function product sales and it has grown both organically and through strategic acquisitions over the last 20 years, increasing direct sales and consulting capabilities in key markets.
It is clear that Ricoh UK adds value for customers in a wide variety of ways. Customer Centricity is at the heart of everything they do - employees live and breathe it. They embrace the new products and services from Ricoh Group and leverage them extremely well. This results in improved service quality through quality of customer interactions, product selection, sales, delivery times, fix times etc. They have encouraged customers & service partners to embrace and adopt the Total Green Office Solutions approach. 
Ian Stokes, Chief Operating Officer of the BQF, said: 'Ricoh Group have a reputation for excellence, and Ricoh UK is following in that tradition with this great achievement – many congratulations."