Ricoh Ireland and Lantz tie the knot on €75,000 deal
Ricoh Ireland installed the five-colour Pro C7100X
Addition of fifth colour, white or clear gloss, helps Lantz stay ahead in highly competitive wedding market
Since instalment of the press, Lantz has achieved a lower cost base
Lantz is Ireland's largest wedding stationery producer, catering to approximately¬ 5,000 wedding parties per year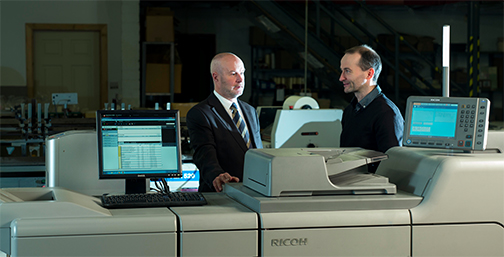 Dublin, 18th December 2017 – Ricoh Ireland today announces that it has helped Lantz significantly increase its production capacity and reduce turnaround times with a €75,000 deal. The partnership will help Lantz boost its range of offerings to customers, who primarily seek the company's services for wedding and memoriam stationery. 
Ricoh installed one of its most advanced digital production print presses, the five-colour Pro C7100X, in Lantz's Inchicore premises in Dublin. In a highly competitive market, Lantz is continuously looking for ways in which it can differentiate itself from competitors. The new technology allows the family-run business to increase profitability and offer customers a wider range of unique styles – helping wedding customers choose stationery that stands out from the crowd. 
Enabling Lantz to expand on its offerings is the addition of a fifth colour, white or clear gloss. Most production presses offer four core colours – cyan, magenta, yellow and black – and only colours that are a mixture of those shades can be produced. The fifth colour allows Lantz to expand on the print quality and service that it offers, allowing for white lettering and designs on dark or metallic paper and card – a feature that is becoming increasingly popular amongst wedding couples. 
The clear varnish, meanwhile, allows for enhancements with dimensional and watermark options. It will also allow for the addition of Neon Pink which is set to be introduced as an additional fifth colour option in the Ricoh Pro C7100X.
The new Ricoh digital print solution replaces Lantz's previous print production press. In making the change, the company has reduced its cost base, while also greatly improving turnaround times. The production speed of booklets in particular has been significantly increased thanks to the booklet finisher on the Pro C7100X. Previously, Lantz staff had to assemble products such as ceremony booklets by hand. Now, the entire job can be completed from one piece of equipment. 
Lantz was set up 41 years ago by Mary and Paul Hughes after they noticed a gap in the market for wedding stationery. The company is now Ireland's largest wedding stationery producer, catering to approximately 5,000 wedding parties per year. It has also branched out into the memoriam and occasion card markets.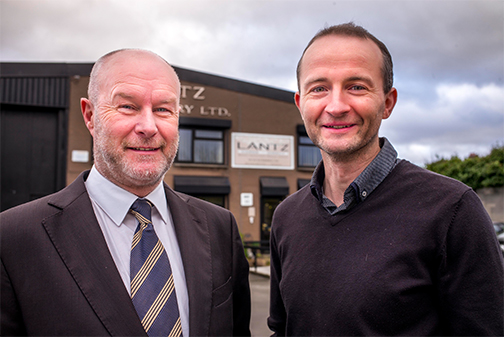 Mark Hughes, director, Lantz, said: "As the majority of our customers are brides and grooms-to-be, they are understandably very particular about their wedding stationery and the quality of the product. It's therefore vital for us to consistently be raising the bar and offering new services to them. The Ricoh Pro C7100X has been central to helping us continue our work in offering customers something that is a little bit different while also reducing costs and turnaround times.
"The service, from installation to everyday use, has been excellent. The team in Ricoh provided full training on the production printer during the installation process. That means that if there is an issue, which is very rare, I can often resolve it myself without the need to call our account manager – once again saving time and allowing us to continue to take on a large volume of customers."
Paul Kealy, Commercial and Industrial Printing Division, Ricoh Ireland, said: "Lantz is an extremely impressive company, catering to both the Irish and UK markets with its wide range of bespoke wedding, memoriam and occasion stationery. For more than 40 years, the company has shown its dedication to providing customers with the absolute best and the installation of this Ricoh print solution will ensure that it continues to impress."