Ricoh announces first 3D printer designed to support high functional materials
Latest innovation and services portfolio to be demonstrated at formnext

London, 10 November 2015 – Ricoh has announced the release of the RICOH AM S5500P, its first 3D Printer under the RICOH brand. The product will be showcased in Frankfurt, Germany this November and made available to European customers by mid-2016.

The RICOH AM S5500P is a high speed, high quality product designed to help businesses meet their specific manufacturing innovation needs. It is a high-end 3D printer which can offer PA6 and PP materials support – which are of strategic importance to manufacturers, including those in the automotive industry.

Capable of producing high-definition durable fabricated objects, the RICOH AM S5500P employs an additive manufacturing method known as SLS®*1. Using this technique, a powdered material is irradiated with the laser for sintering. In addition to the polymer powder materials mainly used with the SLS® method, such as PA*2 11 and PA12, universally applicable and highly functional materials PA6 and PP*3 can also be used. For instance, the product can build automobile parts for functional tests, as well as the parts for end products. With a large modeling area of 550 mm (W) × 550 mm (D) × 500 mm (H), the RICOH AM S5500P can fabricate different kinds of parts at the same time, as well as mold large parts all at once.

In September 2014, Ricoh launched its Additive Manufacturing Business (AM Business). Up until now, Ricoh has been selling third-party 3D printers and providing a complete range of AM services, from consulting to 3D data design to fabrication. Ricoh will add the RICOH AM S5500P to the comprehensive list of services it has been providing in this space.

The end-to-end support offered by Ricoh to organisations that want to explore what additive manufacturing can do for their business includes:


Design and application/engineering services
Rapid prototyping
Material science expertise
Additive manufacturing capabilities
Finishing services
After-sales support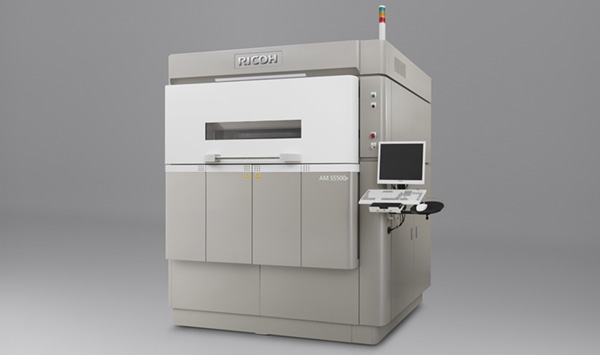 Ricoh worked in collaboration with Aspect, Inc. to develop the RICOH AM S5500P. After the release of the product, Ricoh will continue to work with Aspect on developing proprietary material and enhancing functions.

Ricoh at formnext 2015 in Frankfurt 
Ricoh will participate in formnext, the international exhibition and conference on additive technologies and tool making. Company experts will be on-hand throughout the event, which takes place at the Messe Frankfurt, Germany from 17-20 November. At Stand D20 in Hall 3.1, Ricoh representatives will demonstrate the functionality of the RICOH AM S5500P, as well as the company's design and manufacturing support solutions.

Peter Williams, Executive Vice President, Ricoh Europe, said: "The launch of the RICOH AM S5500P forms a landmark in the near 80-year history of Ricoh and it is also a key milestone in the evolution of the additive manufacturing industry. As a company committed to innovation and supporting businesses as they evolve throughout the digital age, we are excited to bring a fresh approach and introduce a powerful new product with comprehensive end-to-end services. We look forward to formnext, where we will demonstrate the capabilities of the RICOH AM S5500P in supporting high functional materials and creating multiple large parts simultaneously, in addition to showcasing our services portfolio".

Join Ricoh at formext 
Get your free ticket to formnext and discover how Ricoh can help you tap into the opportunities of additive manufacturing. Click here to find out more.
For more information, or to arrange a meeting with a Ricoh representative during formnext 2015,  contact martin.rogers@ricoh.co.uk.

*1 SLS® (Selective Laser Sintering). SLS is a registered trademark of 3D Systems, Inc. 
*2 PA (Polyamide): Nylon. Polymer powder that offers strength and flexibility. 
*3 PP (Polypropylene): Polymer powder that is light, incredibly durable, and highly flexible.