Ricoh Expense Manager
Simplify your expense management process with Ricoh Expense Manager, an easy-to-use cloud-based expense platform.
Increase efficiency and security with an automated reporting tool for your employees and authorising managers that seamlessly integrates with your finance systems.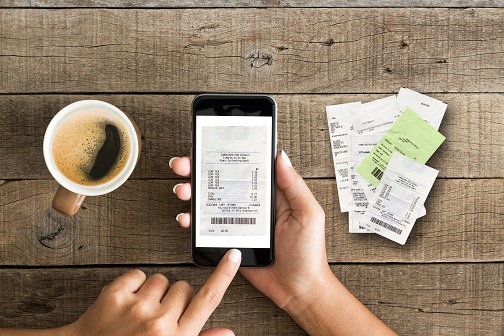 Time-saving

Employees can easily scan receipts and invoices with their mobile phone to automatically generate expense reports for approval on the go, eliminating the need for manual input and reducing the risk of human error. Finance departments can automate a range of time-intensive manual tasks including supervision, bank card reconciliation and managing forward payments.
Improved reporting

Ricoh Expense Manager seamlessly integrates with your ERP, CRM and financial systems to provide a holistic view of expenses. This insight helps identify savings opportunities to drive greater cost-efficiencies across your business. Managers also have complete visibility of employee spend, both on an individual user and group basis, through in-depth reporting capabilities.
Enhanced tracking and security

Alerts can be set up on an individual basis, such as a limit alert for certain categories, repeated expenses and after-hours expenses, for real-time monitoring. In-built expense verification and tracking also helps reduce fraud in your company and ensures compliance with your expenditure policies. Ricoh Expense Manager also provides a simplified and more efficient VAT recovery process.
Ricoh Expense Manager is built entirely around your expenses policy and uses open-source software to integrate with major back-end ERPs (Microsoft Dynamics, Oracle, Salesforce, Meta4 and Sage) to create a single, trackable and automated workflow from the initial capture of the receipt through to approval.  




The Ricoh Expense Manager reporting platform brings all the information and tools required to make approval decisions into a single, easy-to-use interface. Faster approvals mean quicker reimbursements and a happier workforce.
Eliminates the manual work involved in the expense management process by automating day-to-day tasks such as supervision, bankcard reconciliation and managing forward payments.
Greater visibility and control for your management teams who are able to set up customised alerts for each expense recorded and track all expense claims made. 
Set up multiple currency rates for selection to enable the recording of expense items in the correct currency and at the most accurate exchange rate. 
Complies with all major EU legislation frameworks. 






Ricoh Expense Manager helps reduce time spent on manual expense-related tasks by 80% with an automated digital workflow.

Providing effective, automated expense verification and reporting capabilities for increased security and fraud prevention.

Simplifying a complex expense management system for increased employee satisfaction for a global company with 60,000+ employees.