Community Investment
Ricoh UK see corporate responsibility both as an opportunity to create corporate value and to promote a sustainable society.
Community Investment
Since 2004 Ricoh UK have had a code of conduct that is reviewed each financial year and highlights our key responsibilities to our staff, customers and communities. Within this document it highlights the defined targets of CSR activity and the importance of such. We aim to not only implement CSR within the business but also throughout the supply chain including procurement, sales and other markets.
As an operating and growing global company Ricoh is aware of its role as a corporate citizenship and as such within the code of conduct have a Corporate Social Responsibility Charter whereby as a company Ricoh are encouraged to engage in activities that contribute to the local community and foster a corporate ethos that plans importance on contributions to society.
Ricoh UK formalised a Sustainability Steering Committee in 2011 which meets regularly to coordinate its CR operations alongside our dedicated Community Investment and Environment Managers.
Our community investment policy is designed to support volunteering activities that have a positive influence and link to our three core themes: Environment (e.g. tree-planting; creating/restoring a nature reserve), Education (e.g. School Governors; mentoring, helping with reading in schools) and community (e.g. Redecorating community halls, working in hospital café or as hospital 'meet and greeter').

---
Prince's Trust
For the past four years Ricoh has been working directly with the young people supported by the Prince's Trust on initiatives to help boost their confidence and develop their employability skills. In recognition of Ricoh's increased support of the Trust, Ricoh has been awarded Silver Patron status. Support is provided is through a combination of: hosting and providing volunteers who facilitate employability workshops, provision of work placement opportunities, delivery of lean Six Sigma training to Prince's Trust employees and participation in fundraising events such as the Palace to Palace Challenge, Zero to Hero and Million Makers which has raised nearly £70,000 for the Trust.
Many of our fundraising programmes with The Prince's Trust are integrated with our leadership framework in order for our staff to develop personal and business skills whilst providing engagement activities and a financial gain to the charity.
In addition to the volunteering and fundraising for The Prince's Trust we also provide a complete hardware and software solution deployed to all of the charity's sites including the head office within central London.
Our Million Makers team organised a gala aptly named; More than Hope which raised a staggering £47,000 for the Prince's Trust which was all facilitated by our leadership delegates that throughout progressed their personal and business skills such as; project management, due diligence, leadership, ethics and integrity and personal responsibility.
In additional to internal programmes Ricoh UK have supported activities across the country entering teams in to events such as Palace to Palace and most recently twenty employees in to the Royal Parks Half Marathon.
In addition to the volunteering and fundraising for The Prince's Trust we also provide a complete hardware and software solution deployed to all of the charity's sites including the head office within central London.

---
Children in need
Ricoh UK has also been a long-term contributor to BBC's Children In Need charity, by raising funds and employees that volunteer by operating our National Contact Centre during the annual BBC CiN Appeal night as part of a virtual public call-centre for receiving and processing telephone donations from the UK public.
Our recent activity included 160 volunteers on the evening processing over £106,000 in donations from the public in addition to over £17,000 raised from within the business. This is typically a fun week of on-going activities, dressing up and having fun whilst raising money for a fantastic charity.
Each year we also hold a sponsored abseil down our site in Broadgate Tower, London which can raises nearly £23,000 and allows up to 100 people on the day to go down the 23 story building in central London.

---
We support Children in need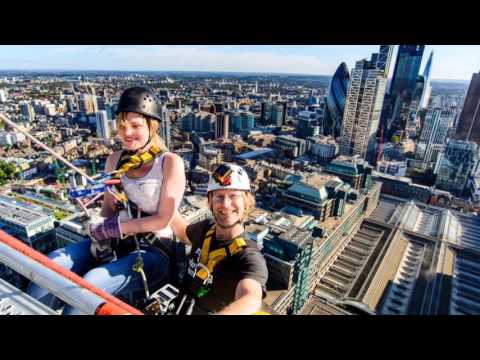 We support Children in need
We support Children in need
Reducing Re-offending - Case study
In August 2013 I was 18 years old and sent to prison. I was young, worried about my future and didn't know what I'd be able to do when I left prison and felt that I'd destroyed my life completely.
When I was 20 and still serving my sentence, Ricoh came to the prison and interviewed me for an opportunity to take part in a work placement. This would mean several weeks of leaving the prison each weekday morning, working normal office hours at a Ricoh site to gain new skills and experience through their Reducing Re-offending Through Employment programmes, and then returning to the prison each evening.
When I was given the news that I'd successfully achieved a placement I couldn't believe it. I'd never expected a company to support this kind of thing - I'd previously thought that my life was ruined - but Ricoh really made me happy again, it was a very emotional experience. I was so happy that a company had given me a second chance, that they had a belief and trust in me to succeed, and that I wasn't regarded merely as an individual with a conviction that left me unemployable.
Having served my sentence Ricoh offered me a permanent full-time role, this has completely changed my life in so many ways, I could never have expected this when I was first sentenced. To be given another chance and to prove myself means the absolute world to me.
I feel like I owe so much to Ricoh and will be eternally grateful for everything they have offered me and also the continued support that I receive on a daily basis.
It's vital that more organisations like Ricoh offer to support programs such as supporting the Ban the Box campaign, work placements and employability workshops in the future. I don't think they realise how much it means to so many people when you believe in someone and give them another chance - and it isn't just the individual that it affects but also their family. To give someone an opportunity to show they are a hardworking - and they aren't just excluded because of a past offence - is a complete life changer and no one can ever repay the favour to Ricoh for the chance and opportunity that they can offer to someone that was in my position.
Ban the Box
Since October 2014 Ricoh UK have been fundamental supporters of BITC's (Business in the Community) Ban the Box Campaign and as such does not ask about criminal convictions in the first stage of their application process. At the point of making an offer of employment, the company will ask the applicant to disclose unspent criminal convictions.
"Ricoh UK pride themselves on being an employer of choice and have robust policies ensuring fairness and equality around employment: when we were asked to support the 'Ban the Box' campaign we put in place actions to remove the box from our recruitment process, Every time I support a ban the box event I feel inspired at the drive and desire of the individuals involved to take any second chance offered and prove they can move on and be successful. By removing the declaration of convictions box from applications, Ricoh UK are able to judge individuals on their skills and abilities and not their past."
Phil Keoghan, CEO, Ricoh UK
BITC Reducing Re-offending Network
Ricoh UK have a position on BITC's Reducing Re-offending Network by attending quarterly meetings and playing a key role in how both BITC and other major companies design and deliver reducing re-offending programmes in attempts to reduce reoffending by individuals with previous convictions as well as attempt to give them skills and experience on order to ascertain a job upon release.
Work within Prisons
Work within prisons plays a key part in delivering our corporate responsibility strategy for our employees, future talent programmes as well as do our duty to assist those in need. Such activities include CV and interview employability workshops, seeing is believing visits to prisons across the country and breaking down barriers volunteering events where employees get to work alongside inmates within a prison.
Volunteering
To help support our employees with getting involved, each person in the business is entitled to two days 'special leave' per year which can be used to participate in any fund-raising, charity activity or volunteering event during working hours. 'Special' leave for volunteering during working hours is intended for use in delivering a skill, labour or knowledge-based expertise to beneficiary organisations.
Ricoh's CR policy states that 'Special' leave for volunteering during working hours is intended for use in delivering skill, labour or knowledge-based expertise to beneficiary organisations (e.g. tree planting, cooking in a homeless centre, reading in schools, mentoring young entrepreneurs, etc).
The Ricoh Global Policy for Social Contribution states that our three priority areas are;
Environment
Local community
Raising the next generation

Localised volunteering has seen employees attend local homeless shelters to cook and provide a free meal to over 150 homeless persons, tree planting and many other environmental activities, litter picking and assisting at local schools with many activities from refurbishment projects to facilitating a workshop such as an employability fair.
We achieve and increase uptake of volunteering opportunities by providing a range of company-wide activities for our employees to get involved with whether on an individual basis or as a team such as; Right2Read programme within local schools, Prince's Trust Business Mentors, employability workshops within schools and prisons, local homeless shelters, wild life trusts and many more. FY15 saw 193% increase (compared to FY14) in employee corporate volunteering with 677 employees giving back to local communities through more than 30 different charities.
One Big Event
One Big Event is a multiagency project that tours the country that is aimed at a high number of Ricoh volunteers attending a location and working to renovate an area for use of local residents of clients of a particular centre that is local to our branch.
Between 12th and 16th October 2015 a medium sized 'pocket park' on Leicester Street, Northampton was in need of some clearing and replanting. The area is surrounded by elderly residents that would use the area for growing their own vegetables and socialising.
In conjunction with Northampton Partnership Homes, The Hope Centre and Ricoh volunteers turned an unattractive overgrown communal area into a manicured garden space for the elderly residents to safely enjoy.
CR Champions
The Corporate Responsibility Department have a network of CR Champions, a scheme set out to promote and increase the amount and geography of the CR activity of Ricoh UK. This initiative does not just increase our CR activity across the business but also provide employees with a wider range of exciting volunteering opportunities throughout the UK; making it easier for them to volunteer their time.
Nine CR champions, from a variety of departments and locations, have been chosen by members of the Board of Directors across the business and have been tasked with managing and organising all fundraising activities and volunteering opportunities for a specific region.